The Fantastic Four

–
The TMMC engineers behind this effort pause for a group photo. From left to right: Chris Loates, Daniel Adam, Moe Bdeir and Leon Drasovean.
Leon Drasovean is the engineering manager of the Assembly Pilot Projects team at Toyota Motor Manufacturing Canada (TMMC). But after what he and his colleagues have been through over the past few weeks, he just might have a second career to fall back on.
"According to the professors, we are now qualified to become respiratory therapists," he says. "But I think we'll keep the jobs we have."
One of those academics, Yvonne Drasovean, is also his wife. Through her channels as a respiratory therapy professor at Fanshawe College in London, Ontario, she learned in late March that Montreal General Hospital and McGill University had joined forces to challenge teams around the world to design a better and less costly ventilator.
Simultaneously, to do its part to help slow the spread of the virus, TMMC was shutting down its operations.
"As you can imagine, we were all in a blue mood," says Drasovean of his team's frame of mind at that time. "We saw the contest as a great opportunity to give us a new sense of purpose and to put our minds to work on something that could really make a difference."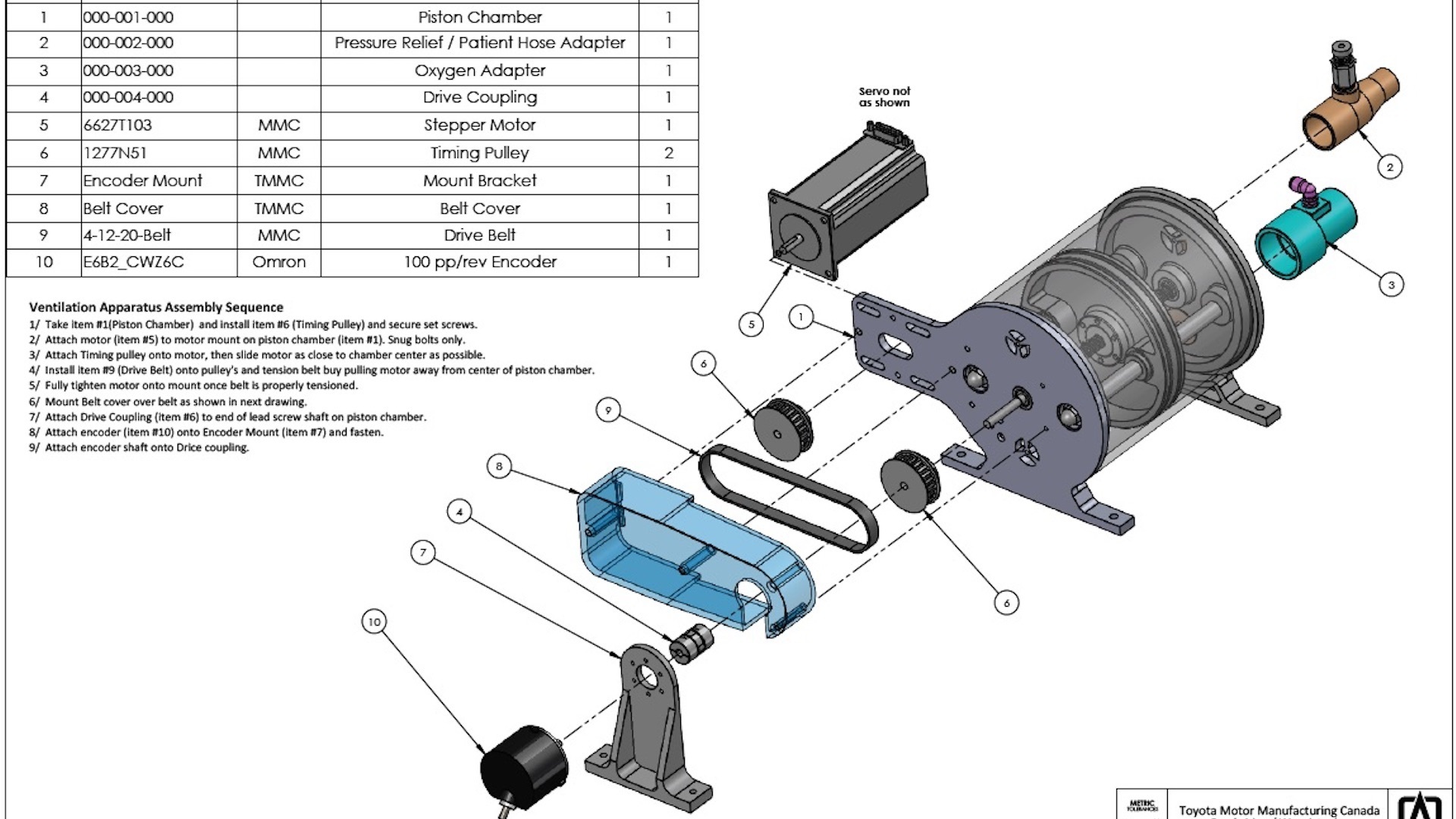 Detail Oriented – This schematic is part of the a thorough package of documentation that accompanied the team's entry in the competition.
From Start to Finish in Just 11 Days
So, in very short order, a partnership was formed between Drasovean, three of his fellow TMMC engineers — Moe Bdeir, Daniel Adam and Chris Loates — and two Fanshawe College professors. And they immediately shifted into high gear. The contest required that they come up with not just a new design but also a working prototype supported by detailed documentation in a mere 11 days.
Of course, TMMC makes vehicles — not medical devices. So the Pilot Projects team had to start at the very beginning.
"We had no idea what it was that we were trying to build," says Bdeir. "So we got some ventilator textbooks from the college and just went through them, chapter by chapter. We had to learn how these devices create air pressure and how they maintain it. We also had to learn about lung anatomy and physiology. We didn't even know the terms that respiratory therapists use."
By applying Toyota Production System principles, Drasovean says the team took this highly complex undertaking and broke it down into smaller, more manageable pieces. Then, working largely apart from one other during the lockdown, they held multiple Teams meetings each day to brainstorm solutions.
As a design emerged, they identified components that could be fashioned using a 3D printer. But, whenever possible, they repurposed what was already at hand — such as programmable logic control boards and touchscreens that are routinely used to manage robotic manufacturing systems along TMMC's vehicle assembly lines.
That approach spurred a major design breakthrough: the possibility of creating a core ventilator control unit that could support as many as 20 patients at one time and drastically lower per patient cost.
Once they had a working prototype, the engineers and professors gathered at TMMC to put the unit to the test with a mechanical lung. Video of those tests were packaged with schematics, a user's manual and basic documentation that — along with the prototype — was sent to Montreal General Hospital to be examined by actual emergency room physicians.
In all, more than 1,000 teams from 94 countries submitted entries. TMMC's was among the top 60 in the first round of judging. After fulfilling a request for additional documentation, the Pilot Projects team finished the competition in the top nine.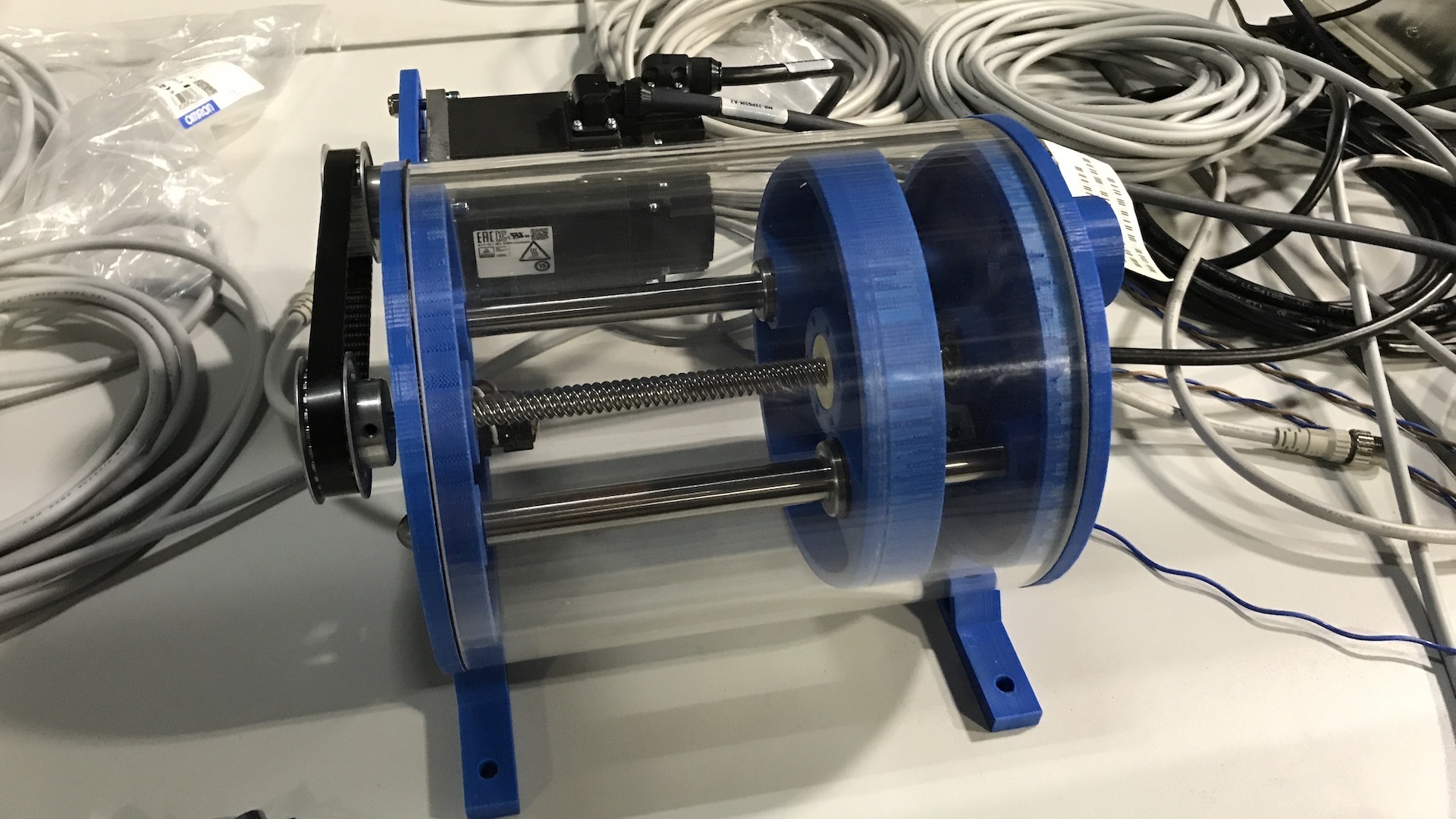 How Does It Work? – The team produced a brief unnarrated video that shows how their prototype functions. Click here to take a look.

'What We're Capable Of'
"This amazing accomplishment is a testament to the innovation and ingenuity of our team members," says TMMC President Frank Voss. "It's an example of how our people want to be engaged and always strive to make a difference."
Meanwhile, Drasovean and his team — in the true spirit of kaizen — can't stop thinking about how they could make their ventilator even better. Fanshawe College plans to use the prototype as a hands-on teaching tool for its students.
"Most ventilators are kind of like a black box. But this one is open so it's much easier to see and understand the mechanics of it," says Drasovean. "We certainly learned a lot by taking this on, about ventilators but also about what we're capable of. As the team put it, this was the best engineering experience any of us have ever had. We now realize we can execute almost any type of project, given enough time and resources."
By Dan Miller